Explore Allegheny National Forest
Published on Jun 24, 2016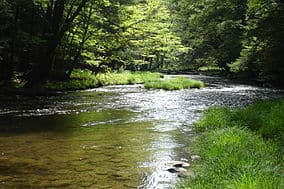 Allegheny National Forest
Pennsylvania is home to many national and state parks, but only one National Forest encompasses the area; Allegheny National Forest. Taking up 517,000 acres of the 44,000 square miles in Pennsylvania, this national forest is visited by many people looking to experience the beauty of the serene wilderness and wildlife that inhabit the area.
Of the 517,000 acres in the Allegheny National Forest 463,000 of that is forested and 11,000 acres are covered by water, which gives way for a multitude of activities for its visitors to partake in. Such activities include swimming in its many different streams and lakes; fishing, boating, waterskiing, kayaking and canoeing. Dry land activities include hiking and camping, plus miles of trails for dirt bikes and ATV's to traverse the rugged terrain in the spring, summer, and fall months; and cross-country skiing and snow-mobiling in the winter. This includes the 87 miles that make up the North Country National Scenic Trail.
Also in the Allegheny National Forest there are over 100 undeveloped islands and sections of land that lend for the most idealistic hiking experiences you can think of, including 7 wilderness islands. There you get the opportunity to experience Mother Nature in its natural habitat, untouched by developments and civilization. You'll encounter hundreds of different types of wildlife and take in spectacular views of the forest in all its beauty.
The Allegheny Reservoir is also a big part of the national forest. It spans between the border of Pennsylvania and New York and offers different water activities for visitors to enjoy. You can visit the Kinzua Dam and go boating at the Kinzua Wolf Run Marina. There are 10 campgrounds surrounding the crystal blue waters offering overnight accommodations for RV's and tent camping, and nearby towns that offer dining and shopping experiences for your enjoyment.
The Allegheny National Forest is definitely a must see for those nature enthusiasts who enjoy experiencing the untouched beauty of nature. For more information go to www.visitanf.com.
Starr's Trailer Sales
With such a massive amount of acreage in the Allegheny National Forest, you'll definitely need the right type of equipment to make your camping and RV experience a positive one. Visit us at Starr's Trailer Sales for all your RV needs. From new and used RV's to our parts and accessories store, we've got it all. Explore our website for more details!