Unique Campgrounds in the USA
Published on Apr 25, 2016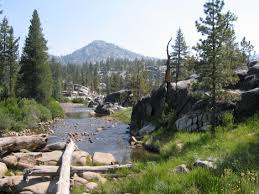 Every summer, nearly 42 million Americans pack up, leave their responsibilities at home and head out on the road to go camping. It's become a standard American pastime to sit under the stars, make a fire and pretend that you don't care your iPhone isn't getting cell service.
Sometimes the hardest part about camping isn't peeing in the woods, but figuring out the logistics of where to go to connect with the great outdoors. Below I'll recommend a few of North America's best spots to pitch your tent whether you're with your loved ones, riding solo or looking for an adventure with friends.
Snuggling Under the Stars
Head to the eastern Sierras in Northern California for a few days of hiking, hot springs and unbelievable views. Mono Hot Springs is one of the most beautiful places to relax and take in the spectacular natural beauty of the Sierra Mountains. At nighttime, pitch your tent at the Mono Hot Springs Campgrounds located along the San Joaquin River. At Mono Hot Springs there is plenty of hiking, swimming, hot springs and more for you and your crew to take part in!
Camping with the Kiddos
Tell the kids to leave their iPads at home and head out to the Dinosaur National Monument with the fam. Here at the monument you can see over 1,500 dinosaur fossils! This area in Colorado not only holds prehistoric fossils, but also rivers, canyons and simple hiking for you to explore with your family.
After a day of exploring, grill up some hot dogs at the Echo Park Campground before scaring the bejesus out of your kids with some campfire ghost stories. The campground is located within the monument, making for an amazing backdrop to do some camping.
Rolling With Your Friends
Deep in the heart of the west Texas desert lies the artsy and unique town of Marfa. Here in Marfa you can take selfies with your friends in front of the pop culture art icon Prada Marfa. You can also grab a Marfalafel at the Food Shark and spend an evening under the stars marveling at the mysterious Marfa lights.
While you're in town, make sure to check out the nomadic hotel and campground El Cosmico. Here you can camp or opt to crash in one of their fully loaded airstream trailers or spacious yurts. The desert can get a bit chilly at night, so grab your crew and rent out one of El Cosmico's dutch tubs to chill in after a full day of bonding with your gang.
Riding Solo
Looking to set off on a solo adventure this season? Consider grabbing your passport and partaking in a Tofino Expeditions Baja kayaking tour to La Paz.
On this tour you'll cover 65 miles of shoreline from Loreto to La Paz. This is an 8-day kayaking tour that will take you through mountains, exotic coves and white sand beaches. At night, you and the rest of your group will set up camp on some of Mexico's most beautiful beaches.
Starrs Trailer Sales
Make your camping trip extra convenient and comfortable and stop by Starr's Trailer Sales to get fixed up with a travel trailer for your trip. We have a wide variety of RVs that are sure to fit your needs.